Extra, EXTRA!!!!!
If you're in Leicester, or near it, or, heck, want to see what Leicester, England is like on 24–26 March, come to see the EMC² Festival! It's called, "Remembering the Experimental Music Catalogue" and is all about us! This is a three-day celebration of the EMC and its composers and compositions, sponsored by Contemporary Music for All, and hosted by De Montfort University. Guests will include Sarah Walker, BBC presenter and expert on the English Piano School, Hugh Shrapnel, and John White, plus Chris Hobbs and Virginia Anderson of the EMC. CoMA forces, conducted by Kieran O'Riordan, will premiere new works by Hobbs and Shrapnel, and there will be concerts of EMC and other English experimental music (including music by White, Hobbs, Gavin Bryars, Michael Parsons, Howard Skempton, Cornelius Cardew, and Carole Finer) performed by John White, Hugh Shrapnel and Sarah Walker, Chris Hobbs, Antony Clare, Mick Peake, Bruce Coates, Virginia Anderson, plus the South Leicestershire Improvisors Ensemble (SLIE) and and improvisation by the EMC's newest recording group CHA (Bruce Coates, Chris Hobbs, and Virginia Anderson). Papers on the EMC and experimental music will be given by Hillary Bracefield, Tim Bausch, and Virginia Anderson. There are available seats for audience members, and day passes for all-comers who may have some chance of performing.
For information on how to attend and book (though the information on the programme right now—17 March—is months old), see the CoMA website: http://www.coma.org/whats-on/events/emc²/ CoMA East Midlands has a Facebook page, with occasional news: https://www.facebook.com/groups/105499836160596/
For some idea of the schedule, see our Blog. Three posts already deal with its progress: EMC2: On the way! , the update: EMC2: Remembering the Experimental Music Catalogue (schedule) , and news about the Sunday afternoon closing extravaganza: Sunday in Leicester with the EMC. We will try to put up information, as we hear of them, as blog announcements.
And for the De Montfort link on Facebook, see their page: DMU Music Facebook page
Events keep developing: we'll keep you informed, here on our home page, on our blog, and on our Facebook page.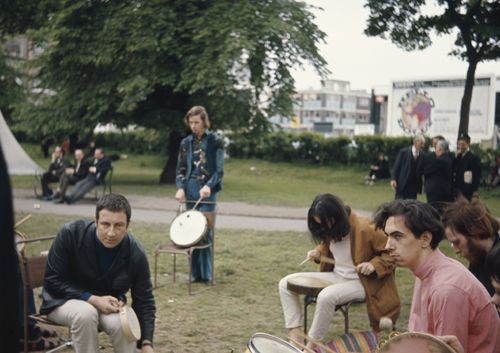 Hello and welcome (or welcome back!) to the Experimental Music Catalogue.  If you don't know us, there's a little explanation (Who We Are) about our history and how we got back to providing some good experimental music. This is an updated, upgraded home page, and we hope you like it.
Here are some features that might tickle your fancy:
Bandcamp. The EMC's new-ish Bandcamp pages present listenable and downloadable tracks and albums of new music, previously unreleased music, and rare archival music. The EMC Bandcamp page will be available as long as we can afford the subscription, so enjoy, download, and if you like it, give! Our Bandcamp offerings include music by Christopher Hobbs, Michael Parsons, and John White, Rick Cox, Read Miller and Dave Smith.
New! Chris Hobbs, Sudoku 126. A "spacey" Sudoku just for you on Bandcamp.
EVEN NEWER!!! CHA: Live from Wigmore Hall. An album by that always up-for-fun free improv trio, CHA—Bruce Coates, Chris Hobbs, Virginia Anderson—in a real-time recording that's been in planning for years. Check it out, if only for Bruce Coates' cover art….
The EMC Blog. News, views and short articles about all the experimental, minimal, postminimal, animal, vegetable, and free improvisatory things that interest us.
New! Virginia Anderson's new post on the "Found Properties" category: Practice Diary for EMC2, pt. 1. This diary charts Virginia's thinking about pieces that she will perform on the EMC² Festival by Howard Skempton and Michael Parsons. This first entry shows her approach to Howard Skempton's piece for Bb clarinet, Call.
EMC Facebook. Come and see us on Facebook: https://www.facebook.com/emcsystems. All the quick news about the EMC in your newsfeed, so you can see what we're doing while you're liking and poking. Our likes thus far:
EMC Scores, Recordings, and other goodies. Music by Cornelius Cardew, Chris Hobbs, Hugh Shrapnel, Michael Parsons, Dave Smith, Erik Satie and others. Includes CDs and reissues of the EMC Verbal Anthology and more.
New!!! 
The EMC Rhythmic Anthology is back, done up in a lovely pdf format. One of the important publications of the original EMC, with music by Shrapnel, Bryars, Gibson, Nyman, Hobbs, and Parsons. Some landmark pieces of minimalism/systems.
Also recent:
The Alec Hill Anthology: Systems music scores by one of the original members of the Promenade Theatre Orchestra. If you like bell-ringing systems, this is for you!
The Journal of the London Institute of 'Pataphysics, devoted to John White on his 78th birthday. The first issue, no, 8, is Albus Liber I: Exploits and Opinions of John White, Composer. Issue 9 is Albus Liber II: The Music of John White. 
Freebies. We don't want anyone to leave empty-handed, so, thanks to the kind permission of the composers and authors, we have a number of free pieces by Chris Hobbs, Michael Parsons, John White, and the historic Scratch Orchestra Research document, Nature Study Notes.
Stuff to read. Our well-respected Journal of Experimental Music Studies (which includesthe EMC Article Archive of historic writings), EMC Composers and other people, and various guides. Perfect for that summer afternoon…
Other free stuff, including archival recordings….
Plus other things of interest:
How to Order EMC scores and recordings: We have Visa facility for ordering, through Paypal.  You have to join Paypal (it's free), but then you can order using your card through them to us.  It's worked really well for us and has proved to be very safe so far.  This is the cheapest method of ordering, especially for those of you who live outside of Britain.  For information on how to order, see How to Order.
FAQs: Here are some frequently asked questions we receive. Have a look through them — if you don't find your answer, contact us! We're happy to chat.
Credits: You might have also noticed the EMC Ball Logo, designed by the saxophone improviser Bruce Coates a long time ago now.  It's based on the big ball section of Cornelius Cardew's Treatise (pp. 130-135), with a particular resonance to a ball on p. 134.  We think that this logo gives a fine sense of who we are and where we've come from.  Thanks so much to Bruce for his talent and friendship.
For information on the EMC, contact:
questions**experimentalmusic.co.uk (for the **, substitute @)
This site updated 16 March 2017 by Virginia Anderson (vander**experimentalmusic.co.uk – for the **, substitute @), who is obsessed by the history of the EMC for her talk—and getting a good reed for her performance—for the EMC² Festival.