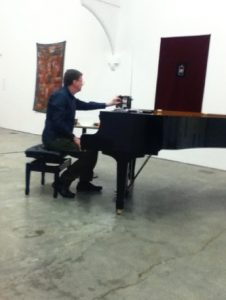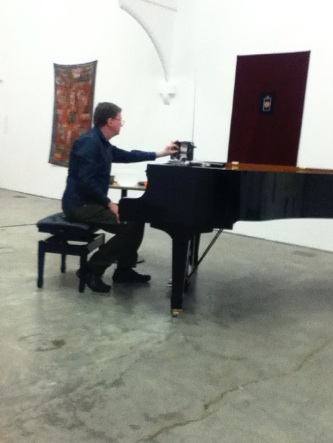 PF0005. Christopher Hobbs. 24 Preludes for Piano (1992).
A3 landscape printing from composer's manuscript, comb-bound, 63 pp. £15 + p & p.
A set of preludes in all the major and minor keys, this is one of the most popular of Hobbs' piano works.  Like Alkan, Chopin, Bach, Hindemith, Shostakovich and others, this is a formal set of preludes; unlike them, influences range from Christmas carols, to smoky late-night jazz, to Little Eva.
---
Chris Hobbs has been writing works for solo piano and piano duo since 1973. This collection of preludes comes from the later part of a long excursion into narrative, or through-composed, piano music (a period lasting from the latter half of the 1970s to the early 1990s). Like John White's sonatas, these preludes are all about the world of piano: the technical things that challenge and delight the experienced pianist. There is a lot here, too, for the audience: little musical in-jokes and points of reference to many types of music. This 'referential' music is very much a feature of British experimental music (especially in the music of Gavin Bryars and White), even when it decides to play in the realm of traditional concert music, and is one of its delights. It is not exactly quotation; it is a musical conversation on purely musical terms. Here is an excerpt from Prelude 22, known as 'Locomotion':

This conversation can be seen in 'Locomotion', about the sheer joy of a workout for the right hand over a chugging, riff-like bass line. The relationship to Little Eva's hit single 'Locomotion' is not at all melodic or harmonic, it is the sheer joy in physicality: moving and shaking as a pianist rather than as a dancer.
Not all of these preludes ride hell-for-leather as fast as possible. Other preludes are concerned with other things: the use of multiple staves representing different tonal, 'instrumental' colours or the naked, 'out there' quality of simple, 'minimal' minimalism. In its entirety, the 24 Preludes provide a great concert piece. They are also useful for private study.
If you are interested in the above, e-mail questions**experimentalmusic.co.uk (for the **, substitute @) for postage costs. Payment is by snail-mail via cheque or electronically by Paypal; please specify whether you would like a faster or slower delivery of your goods. Because of fluctuating exchange rates, do e-mail us for current prices in any other currency than UK sterling, although we do recommend sterling payments as the most economical way of paying.