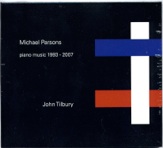 Parsons, sample from Jive (1996)
Played by John Tilbury.
You can't get any better than this.  Michael Parsons' masterpieces of miniatures played by Britain's greatest experimental pianist.  Barry Witherden, in The Wire (November 2009), wrote:
… it's the kind of music one feels more people would enjoy if only you could get them to listen to it without preconceptions. Every piece in this collection has an austere beauty and most of them have a stern calmness that facilitates concentration on the sounds and structures for their own sake…

Parsons's writing is part of a tradition that eschews the drama and machismo displayed in so much of the core piano literature; …the music on this album is often fragile, frequently graceful, always thoughtful and intriguing.
So, what's inside?
Contents:
Triptych
Fourth Bagatelle
Jive
Jive 2
Oblique Pieces 1-10
Krapp Music
Piano Pieces August 2001, February 2002, May 2003
Recording engineer: Sebastian Lexer
Design: Trevor Clarke
Produced by Mathieu Copeland
CD Number: MPCD0208 (69'40")
Recorded in October 2008
Biography and notes:
Michael Parsons (b.1938) has been active as a composer and performer of experimental music since the 1960s.  He belongs to the generation of English musicians who have explored a wide range of radical alternatives to traditional and mainstream tendencies in new music. In 1969 he was co-founder with Cornelius Cardew and Howard Skempton of the Scratch Orchestra, and during the 1970s he was closely associated with visual artists of the Systems group. In common with the work of other English and American experimentalists, his music exemplifies an economical use of material, clarity of structure and an objective and exploratory approach to the actualities of sound and performance.
This selection of piano pieces represents an interplay of complementary tendencies, formal and informal, systematic and intuitive, reflecting a balance between 'classical' and 'experimental' attitudes to composition. Triptych (1993) uses a form of 12-note technique in which the harmonic and melodic material is combined with its own inversion, but without the expressionist gestures associated with classic European serialism.  The Oblique Pieces use predetermined pitch sequences, but are freely composed in terms of rhythm, dynamics and chord spacing. After the 'tabula rasa' of 1960s and 70s experimentalism, these pieces make reference to harmonic tendencies in early 20th century music, to the chromaticism and suspended tonality of early Schoenberg and Scriabin. The two Jives use syncopation and unresolved dissonance in a way which relates more specifically to jazz pianism (eg. Thelonious Monk).
The pieces dated between 2001 and 2003 are abstract and experimental, concerned more with the exploration of piano sonority than with linear continuity. They are written in unbarred space-time notation, specifying pitch content and sequence of events, but leaving many other aspects of the music to be decided by the performer.
Krapp Music is based on the play Krapp's Last Tape by Samuel Beckett, which depicts the writer listening to and commenting on his recorded diary entries of previous years. All the pitch material is derived from passages in the text by means of letter-to-pitch codes. Several layers of sound are recorded with different degrees of spatial resonance to suggest images corresponding with the relation between past and present in the play.
This piece was written for John Tilbury in 1999, for a programme in which he also performed the play itself.
John Tilbury (b.1936) is internationally renowned for his performances and recordings of keyboard music by Cage, Feldman, Wolff, Cardew, Howard Skempton, Terry Riley, Dave Smith and other English and American composers. He is widely acclaimed as an improviser, both as a soloist and as a member of the radical improvisation group AMM.
His authoritative biography Cornelius Cardew: A Life Unfinished was published in 2008. He has also gained recognition as an actor, particularly for his interpretations of Beckett and Pinter.
***
Just think, for once you can say, 'That Krapp Music is really good!' £10 + p&p
If you are interested, e-mail questions**experimentalmusic.co.uk (for the **, substitute @) for postage costs. Payment is made electronically by Paypal; please specify whether you would like a faster or slower delivery of your goods. Because of fluctuating exchange rates, do e-mail us for current prices in any other currency than UK sterling, although we do recommend sterling payments as the most economical way of paying.