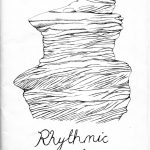 OEMC0040. Hugh Shrapnel/Gavin Bryars/Jon Gibson/Christopher Hobbs/Michael Nyman/Michael Parsons. Rhythmic Anthology.
Pdf facsimile of the original document. 40 pp. £8.50.
One of the great Anthologies from the Experimental Music Catalogue's first incarnation. Rhythmic Anthology includes Bells, by Hugh Shrapnel (a large page that formed the inside cover of the original),  The Squirrel and the Ricketty-Racketty Bridge and Pre-Mediaeval Metrics by Gavin Bryars, 30's by Jon Gibson, Exercises for Percussionists by Christopher Hobbs, Bell Set 1 by Michael Nyman, and Rhythm Studies I and II for piano and Rhythm Studies for percussion by Michael Parsons. This Anthology includes important—indeed, essential—scores in experimental and minimalist music history (including the must-have works by Bryars, Gibson, Nyman, and Parsons). All produced with the full permission of all composers and their publishers, with a facsimile of the original cover, an iconic design by Angela Bryars.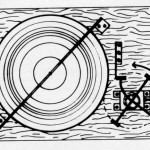 CC0038. Cornelius Cardew. Schooltime Compositions.
Pdf facsimile of the original document, with all contents in Cardew's hand.  30 pp. £7.50
Cardew's famous 1968 'opera book' that immediately preceded The Great Learning. Schooltime Compositions contains notes, scores, visual elements — all involved with the exploration of 'experiment' in the methodological sense as well as the musical sense. This is a much slimmer volume than The Great Learning, but shares Cardew's fascination with the sense of mutual and self-education. In this way, Schooltime Compositions precedes the group education aspect of the Scratch Orchestra, which was founded a year later. This work can be performed by reading and/or non-reading musicians. It is also just a joy to meander through. The piece includes a facsimile of the cover — a parody of those splotchy school composition books that every kid had in those days. It is marked with Cardew's signature and a number, from the original limited edition.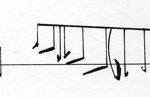 CC0025. Cornelius Cardew. The Great Learning.
Pdf facsimile of the original document, with all contents in Cardew's hand.  23 pp. £35
This is definitely the largest and greatest piece associated with British experimental indeterminacy in the classic era. Dedicated to the Scratch Orchestra as a whole, The Great Learning, based on the Confucian writings Dà Xué, sets the introductory paragraphs. In total, the piece can be played by a large number of reading and non-reading musicians, and the performing time is about nine hours. However, it is not mandatory to play the whole Great Learning. Compositions and entire Paragraphs include solos and small ensembles. These can be performed by non-reading or reading musicians. It is also a magnificent piece just to read and to contemplate. Due to great demand, we have arranged with Danny Dark publications and the Cardew estate to make The Great Learning available on the EMC. We are now issuing The Great Learning as a high resolution pdf file. This saves on postage costs, though you will need an A3 printer at your end. We regret that hard copy scores are no longer available.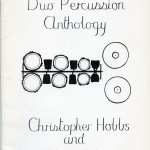 OEMC0001. Christopher Hobbs and John White. Duo Percussion Anthology.
Facsimile of original EMC document.  A4, card-covered; 28 pp. £5 + p & p.
The original EMC Anthology of pieces by Christopher Hobbs and John White.  A study score size.
For more on this Anthology see this page.
Facsimile of original EMC document.  A5, card covered; 61 pp. £6 + p &p.
Text pieces by Robert Ashley, Gavin Bryars, Phil Gebbett, Christopher Hobbs, and Hugh Shrapnel. Pieces include the scores to many of Bryars's early experimental music (noted by Michael Nyman in Experimental Music: Cage and Beyond and in his Obscure Recording) and many of Hobbs's Word Pieces.

Free! Christopher Hobbs. Word Pieces 1966–1970. 
New computer-set pdf of all of Chris Hobbs' Word Pieces. These are text, or 'verbal' pieces beginning before Hobbs began study with Cornelius Cardew, continuing through his study and membership of the Scratch Orchestra, and coinciding with his work in the Promenade Theatre Orchestra. This group includes the first British static minimalist piece, One Note 1966, and several pieces that were not published in the Verbal Anthology. See our freebies page.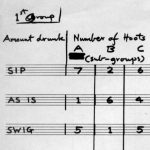 Free! John White. Drinking and Hooting Machine. 
The official version! See our Freebies page.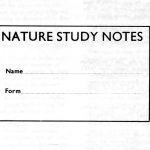 Free! Various. Nature Study Notes.
Facsimile of the original Experimental Music Catalogue publication, ed. by Cornelius Cardew, written in his hand. See our Freebies page.
If you are interested in any of the above, e-mail questions**experimentalmusic.co.uk (for the **, substitute @) for postage costs or to notify us of your interest in pdf scores. Payment is made electronically by Paypal; please specify whether you would like a faster or slower delivery of your goods. Because of fluctuating exchange rates, do e-mail us for current prices in any other currency than UK sterling, although we do recommend sterling payments as the most economical way of paying.