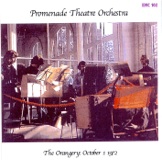 Chris Hobbs, Aran (1972), sample
'The Promenade Theatre Orchestra's version of Carolina Moon is proving a hit with the man in the street'
John Walters, The Guardian
This archive recording is launched in honour of the concert's thirtieth anniversary, by the legendary PTO.  The PTO was a group comprising John White, Chris Hobbs, Hugh Shrapnel, and Alec Hill: all composers and performers who wrote fine, funny systemic music for reed organs and toy pianos (although they also wrote for wind instruments and percussion).  The Orangery Concert was the last by the PTO in Britain and shows the Orchestra at the height of its powers.  Julian Cowley said in The Wire (February 2003):
Inspired by Erik Satie's graceful and funny deflation of grandiosity, the percussive glow of Balinese gamelan and, closer to home, the tradition of change-ringing with handbells, their compositions were unassuming and direct in their appeal, yet infused with a quirky charm that still holds the attention 30 years on.
This CD was recorded by Bryn Harris, who provides a cool account of the recording and of his mastering (in conjunction with Music Now) from the original tape.  Includes short notes by all the composer/performers.  £10 + p & p.  For more information, see Who Are the PTO?
If you are interested, e-mail questions**experimentalmusic.co.uk (for the **, substitute @) for postage costs. Payment is made electronically by Paypal; please specify whether you would like a faster or slower delivery of your goods. Because of fluctuating exchange rates, do e-mail us for current prices in any other currency than UK sterling, although we do recommend sterling payments as the most economical way of paying.