Clarinet Music
Eb clarinet
Bb clarinet
Bass clarinet
Clarinet Quartet
Other Instruments
Eb Clarinet: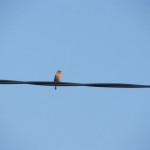 CL0015.  Christopher Hobbs. Swiftly to Virginia for Eb clarinet and piano.  
1981/1991.  Loose-bound for ease of turning.  Solo part, computer-set, A4, 7 pp.; piano accompaniment, composer's manuscript copy, A3, 9 pp.  £5 plus p + p.
Chris Hobbs' first piece for the Eb clarinet, this is a great showcase piece.  In three sections: the first consists of relaxed conservatoire runs with a gentle rocking accompaniment; the second, a smoky blues-like passage, and the third is fun: part Lisztian demons, part jazzy showtune, returning to the beginning, but this time in misty wonder.  You can ask for a sample first page in pdf format: just contact us at questions**experimentalmusic.co.uk (for the **, substitute @), and you can check out these scales for yourself.
Bb Clarinet: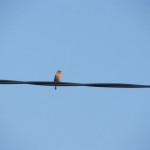 CL0030.  Christopher Hobbs.  Rites of Passage for solo clarinet, piano (playing tam-tam).
A4 portrait, computer-set score, manuscript part, 22 pp.  £5 + p &p.
Now this one is hard!  Has all the bells and whistles — including a multiphonic chorale and the Giant Rat of Sumatra!  See what we mean….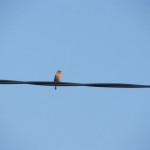 CL0025.  Dave Smith.  Mitchell Principles and Laws on Central Albania for clarinet duet.
2000.  Loose-bound for ease of turning.  2 copies x duet parts, computer-set, A4, 6 pp. ea.  £5.50 + p & p.
Written for Ian Mitchell and Colin Lawson, Mitchell Principles is a characteristically rhythmic, folk-based piece.  It opens with a short rubato section in semi-improvisatory style (great fun, this!) and looks like a great addition to any chamber recital.
Bass Clarinet: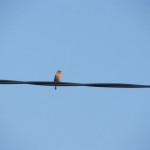 FREE!  Christopher Hobbs.  Why Not? for bass clarinet solo (to low C).   
pdf file delivered by email on request.  For information on how to get this, see our Freebies page; The EMC Clarinet Page also has more information on experimental clarinet music.
A jolly piece which appears on Ian Mitchell's Black Box recording, the edge of the world.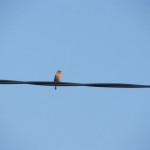 CL0029. Christopher Hobbs.  Recitative for bass clarinet, vibraphone, celesta, and percussion.  
A4 portrait, computer-set.  £5 + p & p.
Chris's lovely piece from the 1970s, which you may have heard on Marty Walker, Clarinets LP in the 1980s.  Great showpiece for bass, while not being impossibly hard.
Clarinet Quartet: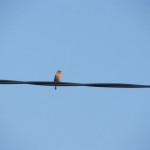 CL0014.  Christopher Hobbs.  Six Preludes and Five Chorales for 3 Bb clarinets and bass clarinet (to low Eb).  
1975.  A4 portrait computer type-set.  17-page comb-bound score with loose-leaf parts.  £6.50 plus p + p.
Chris Hobbs's first commission from Barney Childs for the University of Redlands New Music Ensemble, it's a good recital piece.  The loose-leaf parts ensure that your players can set up each Prelude and Chorale for ease of performing – and are sent loose inside the score to save you packaging costs.  We can send you a sample page of the score, which includes the last system of a Chorale and the first couple of systems of the trickiest Prelude.  Contact us at questions**experimentalmusic.co.uk (for the **, substitute @) and we'll send you the sample by return e-mail.
Other Instruments: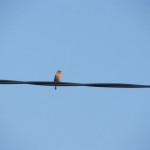 CL0028.  Dominy Clements.   Extant-Extinct for varying instrumentation.
A3 landscape manuscript facsimile.   £12 + p & p.
Dominy Clements is a Welsh-born composer and flautist living and working in Holland. He has written many works for a variety of instruments, and the collection Extant-Extinct contains eleven pieces composed between 1996 and 2001. They range from the musique d'ameublement of the title piece to the expressive word-setting of the three vocal works. The instrumentation is highly individual and will appeal to any chamber ensemble looking for a new and distinctive voice to add to their repertoire. The collection contains the following scores (parts are available at nominal charge):
Extant-Extinct (flute, bass clarinet)
Pocket Symphony No. 1 (flute, bass clarinet, accordion, piano)
Inchoate Deuterium (bass clarinet, tuba, piano)
Murder of Crows II / Four Freedoms / Law of Sod  (flute (doubling bass flute),  clarinet (doubling bass clarinet), accordion, piano)
Pocket Concerto No. 1 / The blue and the dim and the dark (flute, clarinet, piano)
For Nothing Now ( voice, bass flute, violin, cello, piano)
Lonely Spirit Guiding (mezzo, clarinet, piano)
To Live At All Is Miracle Enough (baritone, bass clarinet, piano)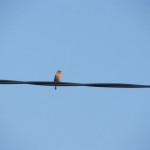 FREE! Michael Parsons. Pentachordal Melody and Rhythmic Canons for indeterminate instrumentation.
This is a treat! Michael Parsons has allowed us to distribute these pieces for free! For information, see our Freebies page.
If you are interested in any of the above, e-mail questions**experimentalmusic.co.uk (for the **, substitute @) for postage costs. Payment is made electronically by Paypal; please specify whether you would like a faster or slower delivery of your goods. Because of fluctuating exchange rates, do e-mail us for current prices in any other currency than UK sterling, although we do recommend sterling payments as the most economical way of paying.