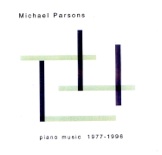 Parsons, Skopelos No. 4 (1992), sample
We are pleased to re-issue Michael Parsons' Piano Music 1977-1996, a comprehensive collection of pieces performed by the composer. They exhibit the typical qualities of his music; economy of material, clarity of structure and an objective approach to the actualities of sound and performance. This is an important document in British Experimental Music, and EMC are proud to be able to distribute it.  £10 + p & p.
If you are interested, e-mail questions**experimentalmusic.co.uk (for the **, substitute @) for postage costs. Payment is made electronically by Paypal; please specify whether you would like a faster or slower delivery of your goods. Because of fluctuating exchange rates, do e-mail us for current prices in any other currency than UK sterling, although we do recommend sterling payments as the most economical way of paying.