The PTO at the Orangery: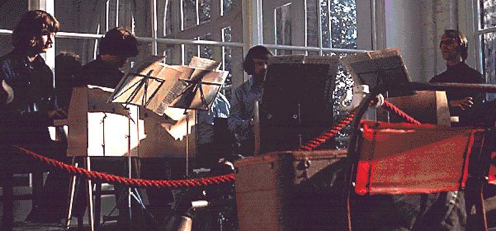 Here is the original announcement for this recording, to give you more of an idea of the background of this recording and its contents.  Chris Hobbs wrote:
Who are the PTO? And what is an Orangery?
The Promenade Theatre Orchestra grew out of Sunday afternoon sessions at John White's home in Wimbledon, London at the end of the 1960's. Various composer-performers brought along music to be played, and gradually a core membership developed, consisting of White, Hugh Shrapnel, Alec Hill and myself, though others, notably Brian Dennis, occasionally joined in. The unique instrumentation of the group came about through accident rather than design; one of us bought a one-and-a-half octave chromatic toy piano (the Golden Grandiosa), so the rest of us bought one too. Similarly with the reed organs. A second set of toy pianos (Michelsons) replaced the first set as they inevitably broke. Later, we began to use our other instrumental skills; oboe (Shrapnel), clarinet (Hill), trombone (White) and percussion (Hobbs). Spoken voices were also used on occasion.
All the music for the PTO tended to be written rather quickly (particularly by White and Hobbs) in order that there be something new to play each Sunday.  The pieces which seemed worthy of performance were then rehearsed thoroughly.  Concerts were given at various art galleries and informal venues between 1970 and 1973, when the group dispersed, though White and Hobbs continued as a duo for the next three years.
Christopher Hobbs
The EMC is delighted to announce the release of a classic concert by the Promenade Theatre Orchestra, the group of four composer-performers (Alec Hill, Christopher Hobbs, Hugh Shrapnel and John White) which existed from around 1970 until 1973. This concert was given in The Orangery, in London's Holland Park on October 1 1972, and includes major works by Hill (Large Change Machine) and Shrapnel (Four Toy Pianos) along with shorter pieces by Hobbs (the original version of Aran, later recorded on Brian Eno's Obscure label) and White. There are twelve works in all, presenting a characteristic cross-section of the PTO's distinctive style. As the group's publicity put it:
The PT Orchestra!
The Orchestra YOU can afford for that extra special occasion!
Restful reed-organs, tinkling toy pianos, soothing psalteries, suave swanee whistles, jolly jew's harps –
NO noisy electronics! (Just the job for that lazy Sunday afternoon!)
All musical material guaranteed thru-composed – NO hit-or-miss improvisation!
This historic concert, recorded, remastered and edited by Bryn Harris (and Laurie Baker), contains all the excitement and danger of a live concert (with the contributions of a baby, who is now in his or her thirties), and contains:
Hobbs: Aran
White: Gothic Waltz
Hobbs: Straight Off the Top
White: Gothic Changeling
Hobbs: Imitation Roll-Off
Hobbs: Oxford Street Walk
Shrapnel: Four Toy Pianos
White: All the Elevens
Shrapnel: Ambroise Farman's Memory
Hill: Large Change Machine
Burke, arr. Shrapnel: Carolina Moon
Hobbs: McCrimmon Will Never Return
What is an Orangery?
A greenhouse where orange trees are grown.  For a description of the Holland Park, which contains the Orangery see this Wikipedia article.
For information, see PTO: The Orangery, 1 October 1972.