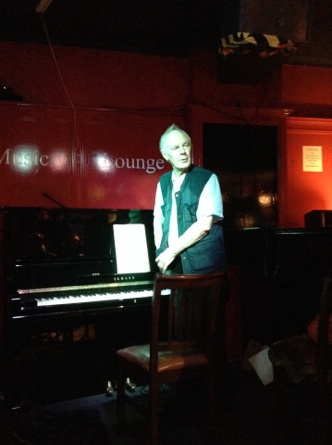 Michael Parsons (b. 1938, Bolton) studied at St John's College, Oxford and then the Royal College of Music with Peter Racine Fricker. As a music critic he wrote insightful reviews for the New Left Journal and the Financial Times. He met Cornelius Cardew in the mid-1960s and, with Cardew and Howard Skempton, founded the Scratch Orchestra (1969–73). Parsons taught at the Portsmouth College of Art, where he became part of the musical faction of the British Systems Art movement (other composers including John White and Christopher Hobbs), and Slade School of Art. He performed in percussion and other duos with Howard Skempton, and for years has run concert series and workshops for the London Musicians' Collective, Kettle's Yard, and elsewhere.
Parsons' compositional style reflects his interest in experimental music and systems, plus his early influences of Webern, Feldman, Cage, and Cardew. He has written a full experimental opera and a related choir piece, Expedition to the North Pole, and a series of piano pieces. Parsons has also written pieces with folk and popular influences, including ragtime and Macedonian pieces.
Works
Michael Parsons, Worklist
On the EMC:
EMC 108.  Michael Parsons Levels. A Bandcamp download — £3, or what you will! Three pieces: a string quartet, a set of two duos,  and an alto flute solo from Parsons' seventieth birthday concert. Lovely stuff!
FREE! Michael Parsons. Pentachordal Melody and Rhythmic Canons for indeterminate instrumentation. This is a treat! Michael Parsons has allowed us to distribute these pieces for free! For information, see our Freebies page.
EMC 107.  Michael Parsons Tenebrio. A Bandcamp download — Name your price (including £0.00 or what you will!). Tenebrio is work for computer-controlled electronic sounds composed in 1995, one of a series of 'Nocturnes' commissioned for late-night listening by BBC Radio 3.
VC0015.  Michael Parsons.  Expedition to the North Pole. For mixed chorus (SATB), with soprano and bass-baritone soloists and piano.  Revised Version, 1999.  Produced privately by Michael Parsons and distributed by the EMC.  A4 portrait computer type-set, card-covered, 33 pp. £10 + p & p. This exquisitely produced score of Parsons' masterwork, in its most practically-mountable version, contains some of his most evocative Arctic musical passages.  This published version is useful as a study-score and for practical performance.  It contains a forward by Michael Parsons explaining the major source of the work, Fridtjof Nansen's Farthest North, and suggesting cuts for a shorter (22 minutes rather than 30) version, should time be an issue.  There are substantial discounts for orders of 30 and above for choirs (or those who would like a lot of copies for whatever reason).
BR0035. Michael Parsons.  Piano Music 1993-2007. £10 + p&p. John Tilbury plays classic experimental pieces by Scratch Orchestra co-founder and experimental pioneer Michael Parsons.
BR0027. Michael Parsons.  Piano Music 1977-96. £10 + p & p. Postminimalist music composed and performed one of the founders of the British experimental movement. Completes the set with BR0035.
PF0013.  Michael Parsons. Piano Music 1971-74. A4 landscape computer type-set, card-covered, 40 pp.  £10 + p & p. Recently published by the EMC, many these classic piano works have been published in other collections – but are now sadly out of print.  This collection forms a nice selection of Parsons' piano works of the time, ranging from classic minimalism to the haunting Arctic Rag.  This includes useful performance notes on all pieces by the composer.
Free! Various. Nature Study Notes (1969). Facsimile of the original Experimental Music Catalogue publication, ed. by Cornelius Cardew, written in his hand. See our Freebies page.
Michael Parsons writings:
Michael Parsons. Howard Skempton: Chorales, Landscapes and Melodies. Journal of Experimental Music Studies. Originally published in Contact 30 (1987), 16–29.  Uploaded 19 April 2004.
Michael Parsons. The Music of Howard Skempton. Journal of Experimental Music Studies. Originally published in Contact 21 (1980), 12–18.  Uploaded 19 April 2004.
Blog Posts on the EMC:
From the past: A flyer from 1976
more to come…
Links:
tba