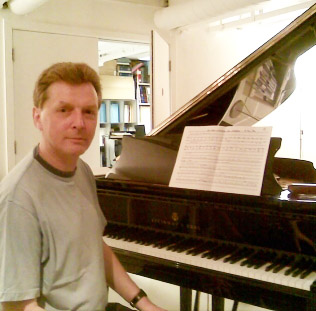 Dave Smith was born in 1949 and read music at Magdalene College, Cambridge. During the 1970s, he was a member of the London-based Scratch Orchestra and various composer-performer ensembles (principally with John Lewis, Michael Parsons, Howard Skempton, John White, Gavin Bryars and Ben Mason) and later was a founder member of the English Gamelan Orchestra and Liria, the first English groups to specialise in, respectively, Javanese classical and Albanian folk musics. He has been a member of the Gavin Bryars Ensemble since its inception and has been involved in many other professional performances as pianist, brass-player, percussionist or conductor including British or world premieres of works by Carla Bley, Harold Budd, Howard Burrell, Cornelius Cardew, Ornette Coleman, Philip Glass, Ladislav Kupkovic, Michael Nyman and Christian Wolff. His musical activities have led him to many different countries and types of venue ranging from Macclesfield shopping centre and the Hall of the North Korean Ministry of Railways to an Albanian taverna and a swimming pool in Brussels.
For 18 years he taught at Leicester Polytechnic (now De Montfort University) and since 1997 has been a lecturer at the University of Hertfordshire. He has worked for and supported COMA (Contemporary music-making for amateurs) for which he has written music for large and flexible ensembles such as Murdoch or Fred West – which is best? Reconsidered (2000) and the multi-movement Whiskies of Islay (2006).
Since 1983 he has written over 100 piano pieces assembled into a series of recital-length 'Piano concerts'. As of summer 2009, nine of these have been completed and others are in preparation. Other works have adopted quite different compositional approaches: these have ranged from the 'wall-of-sound' minimalism of Diabolus maximus (5 pianos, 1976) to the collage of Alban Lament (8 voices plus 8 instruments, 1996/8) and, most recently, the quarter-tones of Natural selections (string quartet, 2009).
Works
Dave Smith, Work List
On the EMC:
New! EMC-113. Moderation in Nothing. New Bandcamp release of this archive recording from 1976. With Howard Skempton, sopranino recorder and electric piano; Howard Skempton on sopranino recorder and electric piano; Dave Smith on ocarina and guitar; Michael Parsons, on electric organ and cymbals; and on wine glasses, bell and voice. It appears in its premiere recording at the Institute of Contemporary Arts, London, 31 October 1976. This extended-play track (over 23 minutes!) costs £3 (although you can give more) on our Bandcamp site.
New! EMC-114. Frivolous and Vexatious. This piece was first written for Dave Smith's 8th Piano Concert and is dedicated to the composer and former Garden Furniture Music member Ben Mason. It is heard here in the premiere of the revised version, at Schott's recital room, London, 25 July 2014. This even-more-extended-play track (over 34 minutes!) costs £3 (although you can give more) on our Bandcamp site.
CL0025.  Mitchell Principles and Laws on Central Albania for clarinet duet. 2000.  Loose-bound for ease of turning.  2 copies x duet parts, computer-set, A4, 6 pp. ea.  £5.50 + p & p. Written for Ian Mitchell and Colin Lawson, Mitchell Principles is a characteristically rhythmic, folk-based piece.  It opens with a short rubato section in semi-improvisatory style (great fun, this!) and looks like a great addition to any chamber recital.
BR0034. Dave Smith.  Dave Smith plays Smith. From UH Recordings and sold on the EMC.  £10 plus p & p.
Dave Smith writings:
Dave Smith. The Piano Sonatas of John White.  Journal of Experimental Music Studies. Originally published in Contact 21 (1980), 4–11.  Uploaded 19 March 2004.
Dave Smith. Following a Straight Line: La Monte Young. Journal of Experimental Music Studies. Originally published in Contact 18 (1977-78), 4–9, and updated in consultation with Young and Marian Zazeela.  Uploaded 21 June 2004.
Blog Posts on the EMC:
Dave Smith Concert, 7 September 2012
Smith Plays Lennon/McCartney/Tilbury
Hobbs and Smith play piano four hands and piano duo music
Smith plays Smith-thinking-about-Alkan
Smith 10th Piano Concert in London
Links:
tba