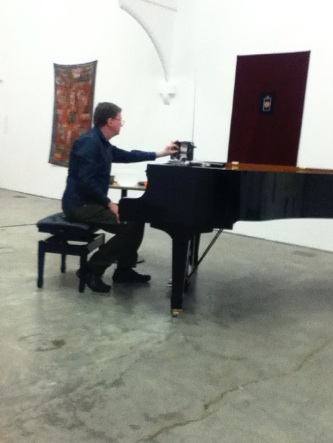 Christopher Hobbs, a pioneer in the field of systemic music in Britain, was born in 1950. He studied with Cornelius Cardew at the Royal Academy of Music and was the youngest member of the Scratch Orchestra when it began in 1969. In that year he also joined the improvisation group AMM. In 1970 he, along with John White, Hugh Shrapnel and Alec Hill, formed the Promenade Theatre Orchestra.  After its disbandment in 1973 he and White continued as a duo.  A pianist and percussionist as well as a composer Hobbs has performed with a large number of individuals—Gavin Bryars, Michael Nyman, Steve Reich, John Tilbury, Christian Wolff among others—and has written music for a large variety of ensembles and situations. He taught music at The Drama Centre, London, from 1973-1991. Other teaching posts include guest lectureships at the University of Redlands, California and continuing lectureships at De Montfort and Coventry Universities. In 1968 he founded the Experimental Music Catalogue which was relaunched by Virginia Anderson and Hobbs in 2000. Since 2005 he has made over 130 pieces using GarageBand software and systemic procedures based on Sudoku grids.  A double CD of this music was issued by EMC in December 2006.  As well as his own music and that of his friends he has been particularly associated with the work of Erik Satie, giving a celebrated performance with Gavin Bryars of Vexations in 1971 and premiering the complete score to Le Fils des Etoiles, Satie's longest through-composed piece, in 1989. He has subsequently recorded the work twice and published a critical edition of the score through EMC. He has recently edited the works of Alec Hill.
Works
Christopher Hobbs, Works list
On the EMC:
PF0041. Christopher Hobbs, Sudoku 82 [solo piano version]. £5, pdf edition (6 pages). Solo version of the eight-piano "real" version recorded on Cold Blue Music by Bryan Pezzone, which is, in turn, a version of the original Apple GarageBand electronic Sudoku 82.
BR0036. Chris Hobbs, Sudoku 82. Cold Blue Recordings £7.50 (£8.25 inc. p&p in the UK). 'Real' piano version by Bryan Pezzone; 'sudoku' process systems by Christopher Hobbs.
EMC 105. Christopher Hobbs Sudoku 104. A Bandcamp download — Name your price (including £0.00!). One of Christopher Hobbs' series of pieces based on Sudoku puzzles, using Garageband processes.
EMC 110.  Chris Hobbs Sudoku 26, for John White on his birthday. A Bandcamp download — what you will! A fun, lovely Sudoku celebration of John White's 2006 birthday, released here for his 2016 birthday!
EMC104. Christopher Hobbs Sudoku Music. £10 + p & p. Classic sudoku processes by the inventor of readymade systems music and (along with John White) a pioneer in British systems minimalism.
PF0017.  Christopher Hobbs.  Fifty in Two Thousand (2000). For piano, electronic keyboard and percussion (one player).  Comb-bound A4 computer-set, card covered, 40 pp.  £6.50 + p & p. Follow this score along with the recording (EMC101)!  A great study score (without the specific percussion and electronic keyboard this piece can't be performed), useful if you'd like to decipher the system Chris used in creating this piece.
EMC101.  Christopher Hobbs. Fifty in Two Thousand. £10 p & p.
PF0010. Christopher Hobbs. L'Auteur se Retire (1996). A3 landscape manuscript facsimile, card-covered, 34 pp. £12 + p & p. This is a fun 1990s concern Chris Hobbs had, and one never knows when this will crop up again.  Like Bach and Shostakovitch, Hobbs worked with musical notes which appear in a composer's name; unlike these composers, Hobbs took existing works by various composers (Cage, Satie, many others) and took their names out, thus the title: 'The Author Retires'.  What's left is surprising and fun to play — a real late florescence of Hobbs/Duchampian 'found' composition.
VC0011. Christopher Hobbs.  No One May Ever Have the Same Knowledge Again. 1996. A4 portrait computer type-set, card-covered, 32 pp.  £5 + p & p. Scored for clarinet, violin, viola, cello, chimes, vibraphone, piano, short-wave radio sounds and amplified speaking voices, this 28 minute piece was originally intended for radio broadcast, though it has been performed in concert by a live ensemble and pre-recorded voices. The texts are excerpted from letters to the Mount Wilson Observatory, California, which have been published in Sarah Simons, ed. and tr., No One May Ever Have the Same Knowledge Again (Los Angeles: The Society for the Diffusion of Useful Information (The Museum of Jurassic Technology), 1993).
FREE!  Christopher Hobbs.  Why Not? for bass clarinet solo (to low C). pdf file delivered by email on request.  For information on how to get this, see our Freebies page; The EMC Clarinet Page also has more information on experimental clarinet music. A jolly piece which appears on Ian Mitchell's Black Box recording, the edge of the world.
PF0005. Christopher Hobbs. 24 Preludes for Piano (1992). A3 landscape printing from composer's manuscript, comb-bound, 63 pp. £15 + p & p. A set of preludes in all the major and minor keys, this is one of the most popular of Hobbs' recent piano works.  Like Alkan, Chopin, Bach, Hindemith, Shostakovich and others, this is a formal set of preludes; unlike them, influences range from Christmas carols to Little Eva as well as the usual piano-composer suspects. For more on this score and a sample of one of the Preludes, see 24 Preludes.
EMC 106.  Christopher Hobbs Hobbs with the Hartzell Hilton. A Bandcamp download — £3, or what you will! From the now-classic Lauderdale House concert by the Hartzell Hilton Band. Two pieces: Gothic Swing and Another Part of the Forest.
CL0015.  Christopher Hobbs. Swiftly to Virginia for Eb clarinet and piano. 1981/1991.  Loose-bound for ease of turning.  Solo part, computer-set, A4, 7 pp.; piano accompaniment, composer's manuscript copy, A3, 9 pp.  £5 plus p + p. Chris Hobbs' first piece for the Eb clarinet, this is a great showcase piece.  In three sections: the first consists of relaxed conservatoire runs with a gentle rocking accompaniment; the second, a smoky blues-like passage, and the third is fun: part Lisztian demons, part jazzy showtune, returning to the beginning, but this time in misty wonder.
VC0037. Christopher Hobbs. Drei Lieder aus Der Struwwelpeter. For baritone or mezzo-soprano and piano, 1990. A4 spiral bound, 18 pp. £7.50 + p & p. For those of you into Charles Addams or Edward Gorey, Struwwelpeter is the real nineteenth-century deal. Subtitled 'Merry Stories and Funny Pictures', Struwwelpeter has lured generations of small children into hearing tales of children who drowned in their soup, burned alive, starved to death, and other adventures of the dark kind, due to their inability to listen to their elders and betters. Merry and funny — well, actually, as dark irony goes, it's a definite hoot! Anyhow, Chris Hobbs has set three of these cautionary tales in their original, rather creepy, German. Great fun to sing and more fun than balloon animals at a party (in this age, a grown-up one).
CL0030.  Christopher Hobbs.  Rites of Passage for solo clarinet, piano (playing tam-tam). A4 portrait, computer-set score, manuscript part, 22 pp.  £5 + p &p. Now this one is hard!  Has all the bells and whistles — including a multiphonic chorale and the Giant Rat of Sumatra!  See what we mean….
EMC 111.  Christopher Hobbs In the Silent Void. A Bandcamp download — £5, or what you will! An absolutely gorgeous piece with a great performance by the late Brian Dennis, Andrew James, and Chris Hobbs.
PF0035.  Christopher Hobbs.  Sonatina 1979. A3 landscape, computer type-set, loose-leaf, card-covered, 8 pp. £12 + p & p. A heavy-weight epic piece, 25 minutes long.  Not for the faint-hearted!
CL0029. Christopher Hobbs.  Recitative for bass clarinet, vibraphone, celesta, and percussion. A4 portrait, computer-set.  £5 + p & p. Chris's lovely piece from the 1970s, which you may have heard on Marty Walker, Clarinets LP in the 1980s.  Great showpiece for bass, while not being impossibly hard.
VC0012. Christopher Hobbs.  Morgenstern Songs. 1975. A3 landscape manuscript facsimile, card-covered, 15 pp.  £7 + p & p. A set of black gallows-humour pieces for baritone and piano, sung in German.
CL0014.  Christopher Hobbs.  Six Preludes and Five Chorales for 3 Bb clarinets and bass clarinet (to low Eb).  1975.  A4 portrait computer type-set.  17-page comb-bound score with loose-leaf parts.  £6.50 plus p + p. Chris Hobbs's first commission from Barney Childs for the University of Redlands New Music Ensemble, it's a good recital piece.  The loose-leaf parts ensure that your players can set up each Prelude and Chorale for ease of performing – and are sent loose inside the score to save you packaging costs.  We can send you a sample page of the score, which includes the last system of a Chorale and the first couple of systems of the trickiest Prelude.
PF0033.  Christopher Hobbs. Sonatina (1975). A3 landscape, computer type-set, loose-leaf, card-covered, 7 pp.  £10 + p & p. A piece in eight sections in three-four time, lasting around 13 minutes.  This piece draws on the late Romantic tradition of piano writing, with some quirks.  John White had always written piano sonatas, many of which were extremely short, so Chris decided to write sonatinas, many of which were quite long.
OEMC0001. Christopher Hobbs and John White. Duo Percussion Anthology. Facsimile of original EMC document.  A4, card-covered; 28 pp. £5 + p & p. The original EMC Anthology of pieces by Christopher Hobbs and John White.  A study score size.
PTO0002. Christopher Hobbs. Percussion Anthology. EMC publication; formerly private publication by composer. A3 printing, comb-bound, 40 pp. £12 + p & p. The original EMC Duo Percussion Anthology music by Hobbs plus extra unpublished percussion music of the time in a score suitable for practical performance. Includes useful tips by the composer about historical and modern performance practice.  If you would like the full Hobbs-White Duo experience, then the Duo Percussion Anthology(OEMC0001) is your cup of tea.
PF0034.  Christopher Hobbs.  Piano Piece 1973. A4 portrait, computer type-set, loose-leaf, card-covered, 4 pp.  £2.50 + p & p. A kind of dreamy chaconne in three time.
EMC102. Promenade Theatre Orchestra. The Orangery: October 1 1972. £10 + p & p. An iconic performance by the legendary London quartet. Essential.
PTO0003. Christopher Hobbs. PTO Anthology. EMC publication; formerly private publication by composer. A3 printing, comb-bound, 64 pp. £15 + p & p. Hobbs's music for the Promenade Theatre Orchestra and other classic works. Includes full scores of Aran and McCrimmon Will Never Return, an interesting account by the composer of the performance practice of the Promenade Theatre Orchestra, as well as suggestions for substitutions of the original instrumentation (such as reed organs, toy pianos, and camel bells).
OEMC0007.  Verbal Anthology. Facsimile of original EMC document.  A5, card covered; 61 pp. £6 + p &p. Text pieces by Robert Ashley, Gavin Bryars, Phil Gebbett, Christopher Hobbs, and Hugh Shrapnel. Pieces include the scores to many of Bryars's early experimental music (noted by Michael Nyman in Experimental Music: Cage and Beyond and in his Obscure Recording) and many of Hobbs's Word Pieces.
Free! Christopher Hobbs. Word Pieces 1966–1970. New computer-set pdf of all of Chris Hobbs' Word Pieces. These are text, or 'verbal' pieces beginning before Hobbs began study with Cornelius Cardew, continuing through his study and membership of the Scratch Orchestra, and coinciding with his work in the Promenade Theatre Orchestra. This group includes the first British static minimalist piece, One Note 1966, and several pieces that were not published in the Verbal Anthology. See our freebies page.
Free! Various. Nature Study Notes. Facsimile of the original Experimental Music Catalogue publication, ed. by Cornelius Cardew, written in his hand. See our Freebies page.
Christopher Hobbs writings:
tba
Blog Posts on the EMC:
tba